Accept sincere congratulations on the New Year and Merry Christmas!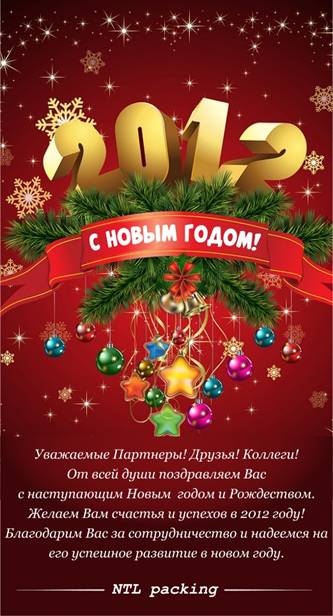 We are very glad that we all lived together with dignity this difficult year and celebrate New, 2012th together.
All the beloved New Year holidays unite us, fill us with a good mood, create an atmosphere of joy and happiness.
These bright holidays are always associated with hopes for the fulfillment of plans and cherished desires, for renewal and success.
The outgoing year gave us joys of meetings and discoveries, each of us had small and big victories, we gained new invaluable experience. May the coming 2012 bring all of us new professional successes, good luck in all our endeavors and many positive emotions.
Also in the coming year I would like to wish everyone good health, happiness, peace of mind and always a good mood. Let your relatives and friends be always with you, and prosperity, love and mutual understanding in your home!